Story of
Momijigari
(Maple Viewing)
 Momijigari (Maple Viewing) premiered in October 1887 at the Shintomi-za theater in Tokyo. It is modeled on the Noh play, "Momijigari," which is based on the legend of the Heian period warrior, Taira no Koremochi, who is said to have defeated a demon of Mt. Togakushi in Shinshu (now Nagano Prefecture). The original idea for the choreography was created by Ichikawa Danjūrō IX, who played the role of Princess Sarashina, in reality the demon of Mt. Togakushi, at the premiere. This piece was later selected as one of the Shin-Kabuki Jūhachiban (18 new repertoires of Kabuki plays of the Ichikawa family).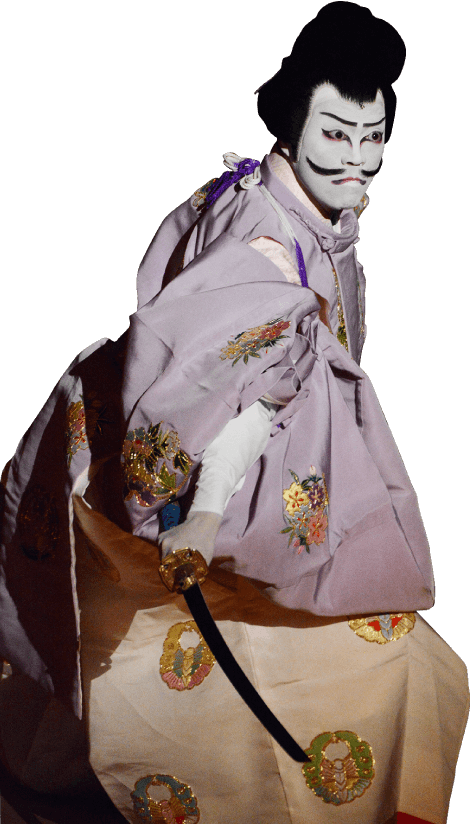 In the play, Taira no Koremochi, accompanied by attendants, visits Mt. Togakushi for maple viewing. He is waylaid by Princess Sarashina and her waiting maids, who invites them to join her drinking party. While being served high-quality sake, Koremochi and his attendants enjoy the beautiful dances performed by the princess and her waiting maids. Soon, they get drunk and fall asleep while the princess and her waiting maids disappear. Just then, a mountain god appears, warning Koremochi, who is still asleep, about the terror of the demon living on this mountain and he then leaves. Suddenly, a demon who has disguised herself as Princess Sarashina reveals her natural shape and pounces upon Koremochi. Koremochi fights back with his legendary sword Kogarasumaru, whose virtue and power eventually drives the demon away.
 Unlike a traditional Noh stage that features a back panel with a painting of a pine tree, the stage for this drama employs realistic scenery against a backdrop of mountain ranges with the beautiful colors of maple leaves, with a huge pine tree in the center. Regarding the music, it features a large-scale performance called sanpō-kakeai, in which Tokiwazu, Gidayū (Takemoto) and Nagauta are played in concert.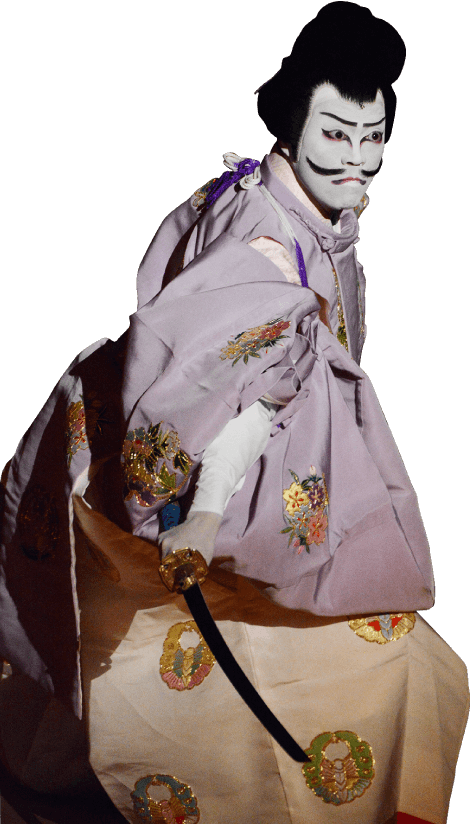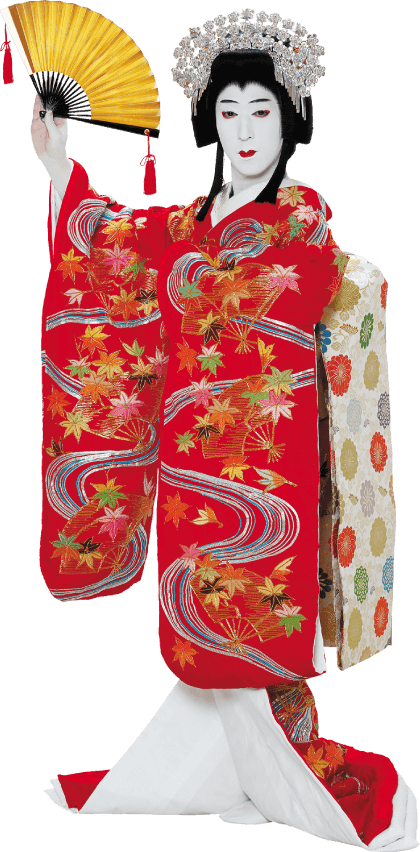 The highlight of the first half of the drama is the elegant dance performed by Princess Sarashina. Especially, the dance technique of using two folding fans called Nimaiōgi requires both dignity and excellent dancing skills. In the latter half, the beautiful princess transforms into the horrible demon and engages in a fierce sword battle with Koremochi. The traditional directorial techniques of Kabuki, such as kumadori makeup and bukkaeri (quick onstage costume changes), enhance the theatrical effects of the drama. Please pay particular attention to the performance by Koremochi, who displays elegance in appreciating the maples as well as bravery in defeating the demon.
 Moreover, dramatic presentations liven up the performance at various points, such as the dance by the waiting maids and attendants, and the eccentric postures and light cadence of the dances of the mountain god.
 Onoe Shōroku plays the role of the brave, masculine Koremochi, while Nakamura Baishi plays for the first time the role of Princess Sarashina, in reality the demon of Mt. Togakushi. We invite you to relax and enjoy the appeal of Kabuki dance, which is brilliantly showcased in this energetic, fresh performance.
View More Details