Overview
Japan Arts Council is a public agency dedicated to preserving and promoting traditional performing arts
as well as to promoting and popularizing modern performing arts,
playing a vital role in promoting arts and culture in Japan.
The Mission
To present performances, train successors/performers, and conduct research on traditional and modern performing arts,
in order to undertake the preservation, promotion, and popularization of these arts,
as well as to provide financial support to arts and culture.
What We Do
Theaters
*Operational Activities related to National Theatre Okinawa and New National Theatre, Tokyo
are entrusted to National Theatre Okinawa Management Foundation and New National Theatre Foundation, respectively.
About the Emblem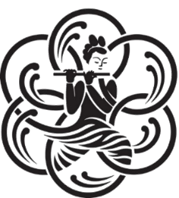 In conceiving the design of the emblem of National Theatre, I got an idea from the Water Flame of Yakushiji's East Pagoda in Nara. In the center, a celestial nymph who plays heavenly music with Sho (pipe), Fue (flute), Kin (horizontal harp) and Kugo (harp) is arranged; around her, six hems of her dress are trailing like a rainbow in the sky to the music of six-tone scale. The keynote of this design is grace and refinement worthy of the dignity of the theater of the nation.
- Yoshida Isoya, architect/professor emeritus of Tokyo National University of the Arts
Outline of Japan Arts Council 2022-2023
Click the image to download the annual brochure of Japan Arts Council.