National Theatre Open House on December 11-12 Booking opens on November 18!
National Theatre Open House
In Commemoration of the Reconstruction Project -Towards a New Adventure-
December 11-12, 2022, at the Large Theatre
The National Theatre will be closed for a redevelopment project in the fall of 2023. The National Theatre Open House lets you discover remarkable features of the National Theatre before the redevelopment work commences.
The National Theatre has many attractions other than the stage performances, including the superb architectural design on exterior and interior, valuable works of art by leading artists of Japan, and one of the best stage structures in Japan.
You can explore the Large Theatre at your own pace with an audio guide. Two special events will also be held. Come visit us at this unique opportunity!
*We will have Bunraku (traditional Japanese puppet theater) performances at the Small Theatre on both December 11 and 12. Though the performances are in Japanese, the one on December 12 from 18:30 ("Discover Bunraku") will have English subtitles. Please also check them out!
Admission/ Self-Guided Audio Tour
Explore the lobby and auditorium of the Large Theatre with an audio guide app (Japanese/English)!
You can listen to stories/explanations on the architectural style, works of art, stage mechanism, and so on.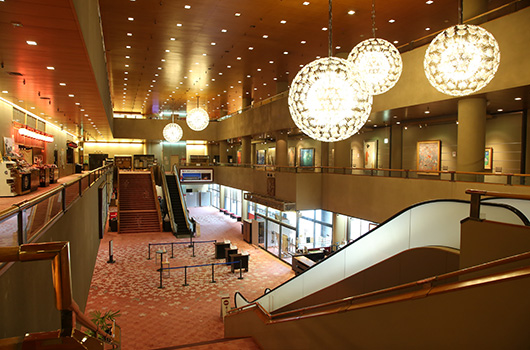 WHEN

10:30-19:00 (last entry18:30) on December 11-12

TICKET PRICE

500 yen (tax included)
Booking Information
[Notes]
● Valid for your selected day only.
● You can re-enter as many times as you like on the day of admission.
● The ticket includes a leaflet (Japanese/English).
[Audio Guide App]
● Please scan a QR code on the leaflet and download the app on your device. (Required OS: iOS 9.0 and up, android)
● Please note that the app is not compatible with some devices.
● Please use earphones or headphones so as not to disturb other visitors.
● The data communication fee for using the app will be borne by the customer.
● Narrator (Japanese): ICHIRYUSAI Teiyu (Kodan storyteller/voice actor), music: SHINNAI Tagatayu
Attention!

● To attend the following two events, a ticket for each event is needed in addition to the admission ticket.
● If you attend both events on the same day, you need only one admission ticket.
Stage Tour
Take a look behind the scenes! You can experience the stage mechanism of the Large Theatre where Kabuki is usually performed, such as the hanamichi (runway), mawari butai (revolving stage), and kuromisu (small room on the stage where music and sound effects are played).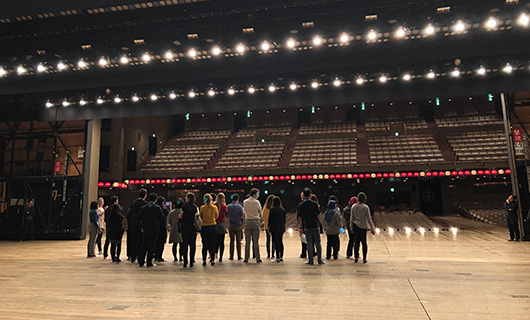 WHEN

Tour starting time
(4 times a day, up to 30 people for each time)
▶ December 11 (Sun)
①11:00(J)/②12:30(J)/③16:30(J)/④18:00(J)
▶ December 12 (Mon)
①11:00(J)/②12:30(J)/③14:00(J)/④15:30(E)
*J=Japanese, E=English

TICKET PRICE

(tax included)

1,000 yen (+ admission ticket)
Booking Information
[Notes]
● Duration: about 45 minutes
● The ticket includes a leaflet (Japanese/English).
● Please go to the meeting place (in the auditorium on the first floor) 10 to 20 minutes prior to the starting time.
● The tour on December 12 at 15:30 will be conducted in English.
"Kagamijishi"
- Lecture on the Sculpture of HIRAKUSHI Denchu and Performance of Traditional Music –
Learn about a renowned sculptor HIRAKUSHI Denchu and enjoy a traditional music performance in the lobby! Celebrating the 150th anniversary of Denchu's birth, in front of his masterpiece "Kagamijishi," a lecture on Denchu and "Kagamijishi" will be held. A live performance of an extract from the Kabuki music masterpiece by KINEYA Mitrato troupe and TANAKA Denzaemon troupe will follow.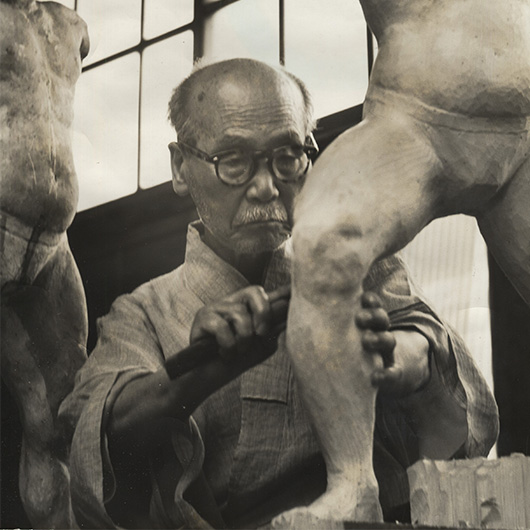 HIRAKUSHI Denchu(1872-1979)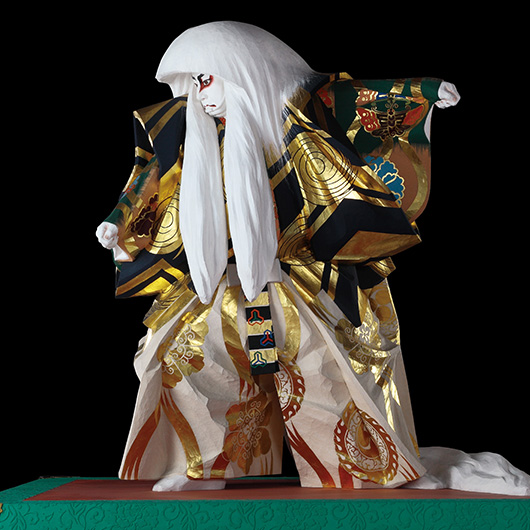 "Kagamijishi" (one of Denchu's masterpieces) Placed in the center facing the main entrance
[PROGRAM]
1. Lecture "HIRAKUSHI Denchu and 'Kagamijishi'"
Lecturer: FUJII Akira (Dec.11, Curator,Kodaira City Hirakushi Denchu Sculpture Museum), HIRAKUSHI Hiroko (Dec.12, Director, Kodaira City Hirakushi Denchu Sculpture Museum)
2. Nagauta and Hayashi (music accompaniment) performance
Piece: "Shunkyo Kagamijishi" (Nochi Jite)
Nagauta: KINEYA Mitaro troupe / Hayashi: TANAKA Denzaemon troupe
*Q&A session is also scheduled to be held.
WHEN

December 11 (Sun), 14:00-15:00*
December 12 (Mon), 17:00-18:00*
*The end time is approximate.

TICKET PRICE

(tax included)

1,000 yen (+ admission ticket)
Booking Information
[Notes]
● Non-reserved seat/Admission starts 30 minutes prior to the starting time in the order of the ticket numbers.
● Up to 80 people each day
● The ticket includes a leaflet (Japanese/English) and a souvenir
◆◆◆
Booking Information
BOOKING OPENS
November 18 (Fri) at 10:00 (online or by phone*)
Book Online
▶ Booking by Phone
National Theatre Ticket Center (10:00-18:00)
03-3230-3000 (for IP phone, etc.)
▶ On-Site
*You can also purchase the ticket at the Box Office from November 19 (Sat).
However, please note that if all tickets are sold out on November 18 online and by phone, no tickets will be on sale at the Box Office.
*Box Office opening hours: 10:00-18:00
◆◆◆
[Contact]
National Theater Business Division
03-3265-6751 (9:30-18:15 on weekdays)
eigyo-nt@ntj.jac.go.jp
Project organized or co-organized by the Japan Cultural Expo
Presented by the Japan Arts Council and the Agency for Cultural Affairs
in cooperation with Kodaira City Hirakushi Denchu Sculpture Museum - the 150th anniversary of the birth of Hirakushi Denchu –