Story of
Nihon Furisode Hajime
(Yamata no Orochi and Susanoo no Mikoto)
What's the truth about a mysterious
and yet beautiful princess…?
Enjoy this gorgeous and spectacular
Kabuki masterpiece,
Depicting the famous myth of the
defeat of a gigantic serpent!
 The drama is set in the upper reaches of the Hinokawa River that runs through the province of Izumo (now Shimane Prefecture). Deep in the mountains where it is dark even in the daytime settled in Yamata no Orochi, a gigantic eight-headed serpent. For fear of the horrible curse of the monster serpent befalling them, villagers offered a beautiful woman as a sacrifice every year. Now, Princess Inada is sunken in grief at the upper reaches of the river, waiting to be offered as the latest scapegoat. Then comes Princess Iwanaga, who hates beautiful women. In fact, she is an incarnation of Yamata no Orochi. Attempting to attack Princess Inada, Princess Iwanaga suddenly notices the smell of sake (liquor). She empties eight sake jugs one after another, and eventually swallows Princess Inada. Then, Princess Inada's sweetheart Susanoo no Mikoto rushes to save the princess and get back the totsuka no hōken (a sacred sword) that was once stolen by Yamata no Orochi. What Princess Iwanaga actually consumed was poisoned sake that had been prepared by Susanoo no Mikoto. Drunk on sake, Princess Iwanaga shows her true nature as that of the monster serpent and fights a fierce battle against Susanoo no Mikoto.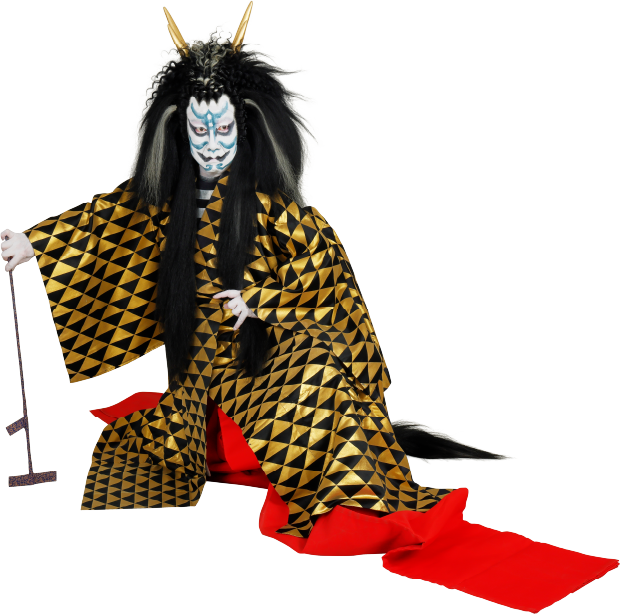 The mysterious and beautiful Princess Iwanaga, who reveals her true colors little by little as she becomes drunk on the poisoned sake; the dynamic fighting scene depicting the battle between the monster serpent and Susanoo no Mikoto – this year's program is full of the gorgeous, magnificent appeals of Kabuki. Also, and the impressive musical performance livens up the drama all the more.
 Nakamura Senjaku and Nakamura Toranosuke play the roles of Princess Iwanaga, actually Yamata no Orochi, and Susanoo no Mikoto, respectively, for the first time. The costarring of father and son – this is a long-awaited performance by all Kabuki fans! Prior to the main program, an easy-to-understand commentary will be given by Toranosuke through Kabuki no Mikata (How to Appreciate Kabuki).
 No doubt that you will be mesmerized by the world of Kabuki by watching this Nihon Furisode Hajime, a program full of highlights, with the help of the commentary. You can also fully enjoy it without any background knowledge. We are very pleased that you have joined us!