Engei Workshop –Let's enjoy the World of Engei Performances!
Engei Workshop –Let's enjoy the World of Engei Performances!The guidance of experts and hands-on experience on the real stage –
Would you like to experience traditional Japanese performing arts?
Engei is traditional Japanese entertainment. Since over 400 years ago, it has been enjoyed as an amusement alongside the theatrical performance. There is a variety of genres of Engei, including Rakugo, Rokyoku, Manzai, Kyokugei and Kijutu and so on. This workshop features guidance and demonstrations by selected professionals from each genre of Engei and offers participants hands-on experience onstage at National Engei Hall.
This is a precious opportunity for experiencing the traditional Japanese performing arts ! Please come and join us!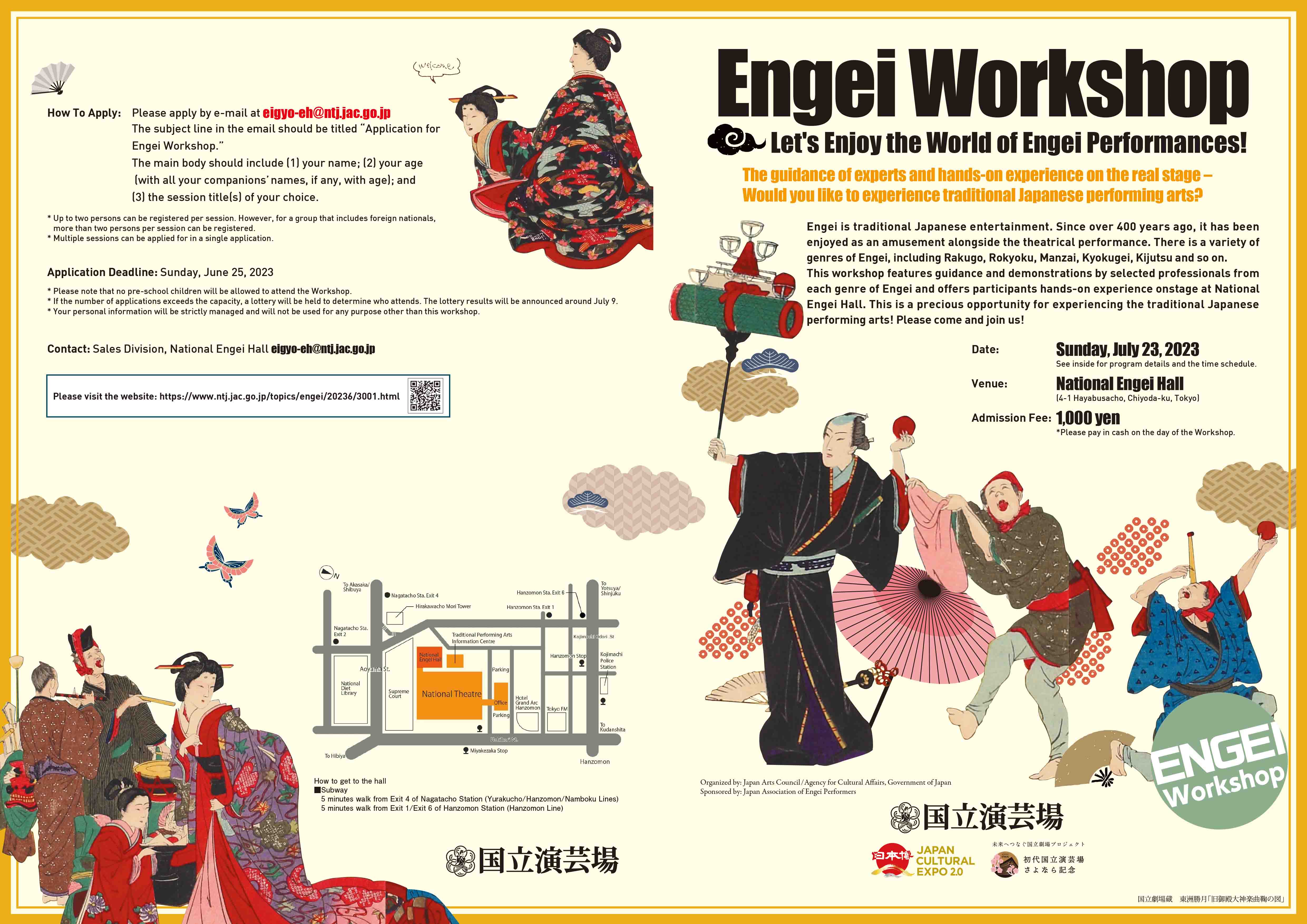 Date

Venue

National Engei Hall

Admission Fee

1,000 yen
*Please pay in cash on the day of the Workshop.
How To Apply
Please apply by e-mail at
eigyo-eh@ntj.jac.go.jp
The subject line in the email should be titled "Application for Engei Workshop."
The main body should include (1) your name; (2) your age (with all your companions' names, if any, with age);and (3) the session title(s) of your choice.
* Up to two persons can be registered per session. However, for a group that includes foreign nationals, more than two persons per session can be registered.
* Multiple sessions can be applied for in a single application.
◆◆◆
Application Deadline
Sunday, June 25, 2023
* Please note that no pre-school children will be allowed to attend the Workshop.
* If the number of applications exceeds the capacity, a lottery will be held to determine who attends. The lottery results will be announced around July 9.
* Your personal information will be strictly managed and will not be used for any purpose other than this workshop.
Contact
Sales Division, National Engei Hall
Email:
eigyo-eh@ntj.jac.go.jp