Bunraku Performances
National Theatre has implemented measures for our visitors to prevent the spread of the novel coronavirus.For more information click here.

Bunraku Performances in February


Performance Date : Feb.6(Sat.) - Feb.22(Mon.)
Venue : National Theatre(Small Theatre)

Program Ⅰ (10:30–13:05)
Gojo Bashi
Meiboku Sendai Hagi

Program II (13:50-16:45)
Kuruwa Bunsho
Sugawara Denju Tenarai Kagami

Program Ⅲ (17:30-19:55)
Meido no Hikyaku

Ticket Prices for Each Program(tax included)
Adults:
1st Grade ¥6,400; 2nd Grade ¥5,400
Students:
1st Grade ¥4,500; 
2nd Grade ¥2,700


*End times are estimates and could vary.
*Japanese audio guides are available for rent. Click here for details.
*Subtitles: Available only in Japanese. Displayed on screen beside the stage.
*English synopsis is available. It is included in the paid Japanese brochure.
*There will be intermission.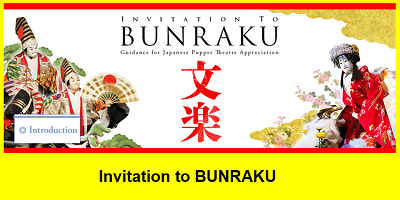 Booking Opens
available from Jan.14(Thu.), 2021

-----------------------------------------------------------------------------
Box Office
0570-07-9900 (From overseas: +81-3-3230-3000) in Japanese and English
(10:00AM - 6:00PM)
Online Booking : https://ticket.ntj.jac.go.jp/top_e.htm
-----------------------------------------------------------------------------
Counter Sales at the Theatre
available from Jan.15(Fri.),2021

in Japanese
A View from the Stalls
(by Stuart Varnam-Atkin, Japanologist and writer)



Once again, the February Tokyo programmes offer a great selection of classic Bunraku features, with many legendary characters and themes of love, hate, jealousy, duty, sacrifice and emotional partings.





Programme I


Gojo Bashi
(The Bridge at Fifth Avenue)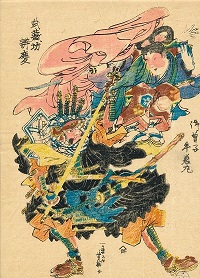 Benkei and the fight (Artists unknown)



What better way to kick off the year than with a scene that features a twelfth-century incident most Japanese know very well? It's actually part of a play first performed in 1731 that was based on the Noh play Hashi Benkei (Benkei on the Bridge).
We're again in the period of the Genji (Minamoto)-Heike (Taira) rivalry of the twelfth century. The focus is on two legendary, real-life figures. The first is Minamoto no Yoshitsune (1159-89) appearing here as a young man still using the name Ushiwakamaru. The other is the mighty warrior priest Saito Musashibo Benkei (1155-1189), who featured in Kanjincho in the February 2020 performances. He became Yoshitsune's right-hand man as a result of this thrilling fight on the Fifth Avenue Bridge in Kyoto. Who do you think wins: the mighty warrior priest with his impressive arsenal of weapons or the little stripling youth?




Meiboku Sendai Hagi
(The Troubles in the Date Clan)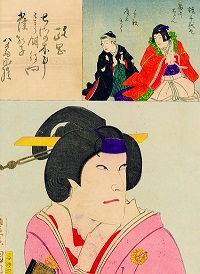 Masaoka (Kunichika)



In the second half of Programme I, we have two scenes from a 1785 play based on a couple of earlier Kabuki plays. The story centres around an actual seventeenth-century power struggle in the Date Clan of Sendai in northeastern Japan. Set in the palace women's quarters, which are closed to men, this is one of Bunraku's famous 'loyalty plays' involving a parent's sacrifice of their own child to save their master's child. In this case, the nursemaid Masaoka loses her son as she helps to prevent a clan coup. The scenario involves murder, poisoning, and deep, restrained maternal emotions. Watch out for the moving scene in which Masaoka entertains the two boys in her care while cooking rice using tea ceremony utensils, and her heartbreaking final lament to her dead son: "You have done well."







Programme II


Kuruwa Bunsho
(A Letter from the Pleasure Quarters)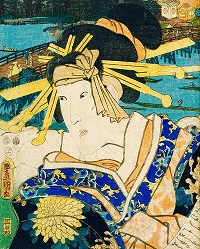 Yugiri (Kunisada)



Programme II first presents a passionate love story set in the Shinmachi pleasure quarters of Osaka at the New Year. It was originally written by the great playwright Chikamatsu Monzaemon for Kabuki, in honour of a real courtesan called Yugiri and the actor Sakata Tojuro I.
It opens with a scene of pounding rice cakes and comic entertainers. Then we see the beautiful courtesan who has fallen ill longing to see her lover, Izaemon, the son of a wealthy family. Next, the distraught Izaemon appears, hiding under a straw hat and dressed in a kimono apparently made from old love letters. His widowed mother has disinherited him… Will the two lovers find reconciliation? Could there even be a happy ending? No spoilers!





Sugawara Denju Tenarai Kagami
(Sugawara and the Secrets of Calligraphy)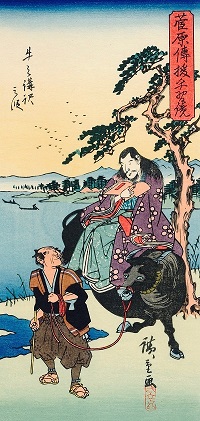 Michizane (Hiroshige)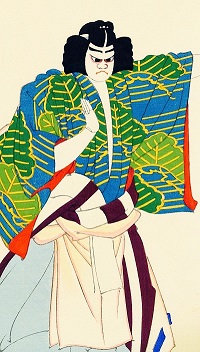 Matsuomaru (Konobu)



The famous ninth-century scholar Sugawara Michizane, who became the God of Learning, is said to have ridden to exile in Kyushu on an ox. So what could be more appropriate to include in the first performances of the Year of the Ox than a great scene from the ever-popular 1746 play, Sugawara's Secrets of Calligraphy?
It's another 'loyalty play' in which Matsuomaru, one of the famous triplets in the story with a 'matsu' pine-tree motif on his kimono, feels duty-bound to sacrifice his own son to save Michizane's son. The very moving Terakoya scene is right up there with Hamlet and King Lear in terms of exquisite language and tragic power. But, like Shakespeare, the playwrights injected a little humour into the tragedy as well, with charming stereotypical children at school during a calligraphy lesson.







Programme III


Meido no Hikyaku
(The Courier from Hell)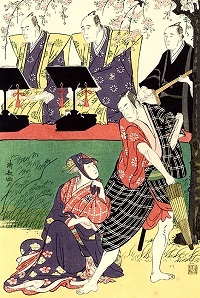 Umegawa & Chubei (Kiyonaga, 1784)



The evening programme is one of the famous sewamono (domestic plays) that feature the lives and loves of ordinary people in the Edo Period. The February 2020 performances in Tokyo included a scene from Keisei Koi Bikyaku, which was a 1773 reworking of the 1711 love-suicide play by Chikamatsu Monzaemon being presented this time. It's based on a real incident in Osaka in 1710 when a courier was executed for using the money he was supposed to be transporting to a customer to buy the freedom of his courtesan lover. The courier in the play is called Chube and the courtesan is Umegawa. The final musical scene, rarely performed, features the two doomed lovers travelling in a double palanquin. They know their days are numbered, but they vow to stay together as long as possible.
As the 1926 translation by Asataro Miyamori ends:
What further fate was theirs, tongue need not recite. Suffice to say their names remain upon the roll of those whom passion has made its prey.
(All prints from the Varnam-Atkin Collection)
National Theatre