Kabuki Performance "Koko no Yushi Musume Kagekiyo: Hyuga-jima"
National Theatre (Large Theatre)
November 2019 Kabuki Performance

Koko no Yushi Musume Kagekiyo: Hyuga-Jima

Performance Date
November 2 (Sat.) - 25 (Mon.)

Performance Time
12:00 p.m. - 3:40 p.m.
*End time is an estimate and may vary.

Cast
Nakamura Kichiemon
Nakamura Karoku
Nakamura Matagoro
Nakamura Matsue
Nakamura Kasho
Nakamura Tanenosuke
Nakamura Yonekichi
Nakamura Takanosuke
Nakamura Kichinojo
Arashi Kitsusaburo
Otani Keizo
Nakamura Kinnosuke
Nakamura Jakuemon
Nakamura Tozo
and others

Tickets(Tax included)
[Superior Grade] Adlut: 12,800 yen (Student: 9,000 yen)
[1st Grade A] Adlut: 10,000 yen (Student: 7,000 yen)
[1st Grade B] Adlut: 6,500 yen (Student: 4,600 yen)
[2nd Grade A] Adlut: 5,000 yen (Student: 3,500 yen)
[2nd Grade B] Adlut: 2,800 yen (Student: 2,000 yen)
[3rd Grade]  Adlut: 1,800 yen (Student: 1,300 yen)
*Single Act Tickets available in this program.

Seating plan

Organaized by Agency for Cultural Affairs and Japan Arts Council (National Theatre, Tokyo)




*Audio guide: Available for rent in English and Japanese. Click here for details.
*Subtitles: No subtitles available.
*English synopsis is available. It is included in the paid Japanese program.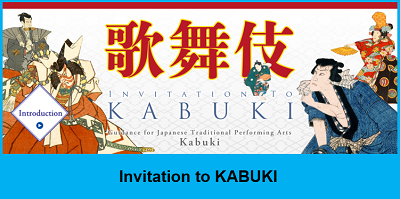 Booking Opens
available from October. 6, 2019

-----------------------------------------------------------------------------
Box Office
+81-3-3230-3000 (10:00 - 18:00(JST))in Japanese and English
Internet reservations : https://ticket.ntj.jac.go.jp/top_e.htm
-----------------------------------------------------------------------------

Counter Sales
available from October. 7, 2019


in Japanese


---------------------------------



Drama gracing the autumn brocade leaves


(by Petr Holý, Adjunct Researcher,
The Tsubouchi Memorial Theatre Museum, Waseda University)
 Akushichibyōe Kagekiyo is famous in Japan as a super hero, samurai of the Heike clan, who was defeated by his arch-enemies from the Genji clan while the national civil Genpei War occurred in late-Heian period. The war resulted in overthrow of the Heike clan and enactment of the Kamakura shogunate with Minamoto no Yoritomo at the head in 1192.
 According to legend, Kagekiyo was captured after the battle of Dan-no-ura in 1185 and became a blind and broken man who starved to death in 1196. He mooned over a desire to retaliate against the Genji clan until the very end of his life. As such Kagekiyo entered the hall of fame of Japanese literature, appearing in fictionalized epic The Tale of Heike (Heike Monogatari), specifically in its 11th chapter, the section named The Dropped Bow, compiled prior to 1330. Since then, Kagekiyo became a highly appreciated sympathetic folk hero character, adapted in countless theatrical plays collectively called the "Kagekiyo pieces". One of the most famous scenes of the Kagekiyo pieces takes place in Hyūga Island, where Kagekiyo was exiled. "The Hyūga Island" is also the subtitle of this November's kabuki performance in the National Theatre of Japan, staged by kabuki star Nakamura Kichiemon who was designated as a Living National Treasure.

 November's show draws on several Kagekiyo pieces, focusing on Kagekiyo's strong desire for vengeance, his frustration at being captured during a memorial service for the Great Buddha (this scene is staged after more than 100 years), and finally being praised by his arch-enemy Yoritomo (the leader of the Genji clan) for his loyalty to the Heike Clan. Yoritomo actually wants Kagekiyo to become his loyal vassal. Yoritomo tries to resolve Kagekiyo's grudge. Kagekiyo refuses this in spite of Yoritomo's good will and gouges his eyes to prove that he would never retaliate. Kagekiyo lives as an exile on the Hyūga Island (now Miyazaki Prefecture). Then we can learn about Kagekiyo's daughter Itotaki, taken as prostitute in Hanabishiya brothel at Suruga (now Shizuoka Prefecture) who is trying to get money to restore her father to his social position. She travels far away from Suruga to Hyūga Island. There Itotaki urges Kagekiyo to get an official rank, but the old, hard-nosed man refuses to ever conjoin with Yoritomo.
 We can see the deep love of Itotaki toward her father, which became unfulfilled and unrequited as the tragedy of Kagekiyo goes on. The drama of Kagekiyo and his loving daughter is very fitting for Japan's ephemeral autumn.
National Theatre