National Theatre has implemented measures for our visitors to prevent the spread of the novel coronavirus. For more information click here.
Commemoration of Toyotake Sakitayu's Cultural Merit Award
150th Anniversary of the Naming of Bunrakuza
Bunraku Performances in May


Performance Dates : May 7 (Sat.) - May 24 (Tue.), 2022
No performance on 12 (Thu.)
Venue : National Theatre (Small Theatre)

Program Ⅰ (11:00–13:50)
Yoshitsune Senbon Zakura


Program II (14:30-17:00)
Hadekurabe Ise Monogatari


Program III (17:45-20:30)
Katsuragawa Renri no Shigarami



Ticket Prices for Each Program(tax included)
Adults:
1st Grade ¥7,000; 2nd Grade ¥6,000
Students:
1st Grade ¥4,900; 
2nd Grade ¥4,200
Seating plan

*End times are estimates and could vary.
*Japanese audio guides are available for rent. Click here for details of audio guide.
*Subtitles: Available only in Japanese. Displayed on screen beside the stage.
*English synopsis is available. It is included in the paid Japanese brochure.
*There will be intermission.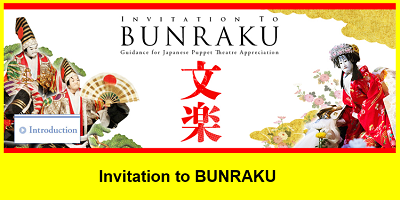 Booking Opens
April 14 (Thu.), 10:00AM

-----------------------------------------------------------------------------
Box Office
0570-07-9900 (From overseas: +81-3-3230-3000) in Japanese and English
(10:00AM - 6:00PM)
Online Booking : https://ticket.ntj.jac.go.jp/top_e.htm
-----------------------------------------------------------------------------
Counter Sales at the Theatre
available from April 15 (Fri.)
(Business hours: 10:00AM – 6:00PM )

in Japanese
Yoshitsune Senbon Zakura
Yoshitsune Senbon Zakura is an epic masterpiece that includes a sequel of the story about the warlords during the Genpei War, and which develops around the vicissitudes of the fate of Minamoto no Yoshitsune. Today's performance presents the scenes focused on Yoshitsune's loyal retainer, Satō Tadanobu, who was ordered by his lord to protect Shizuka, the lord's beloved concubine.
Forced to leave the capital, Yoshitsune gives Shizuka the treasured hand drum named Hatsune no Tsuzumi as a keepsake, and orders Tadanobu, who was given the honorific name Genkurō by Yoshitsune, to guard Shizuka along the way. Crossing Mt. Yoshino, Shizuka and Tadanobu finally reach the mansion, where they meet Yoshitsune again. Shizuka, however, feels there is something strange about Yoshitsune's attitude towards Tadanobu, who has just arrived there with her. Totally confused, Shizuka and Yoshitsune work out a plan, attempting to discover another of Tadanobu's identities – a fox.
The stage of magnificent splendor with cherry blossom petals fluttering at their best, as well as the mysterious scene in which the fox Tadanobu talks about the parent-child love will surely touch and move your heart.

Hadekurabe Ise Monogatari
Based on "Ise Monogatari," which is said to have been based on the life of the handsome tanka poet Ariwara no Narihira, this piece depicts the efforts of those struggling to rescue Narihira, who was caught up in a power struggle for the imperial throne, along with his lover Princess Izutsu. The sentiment of the scene in which Kino Aritsune and Koyoshi, an old woman who is an old acquaintance of Aritsune, remember the deceased over a cup of hattai (parched barley flour) tea; the mental anguish of Aritsune, who combs his real daughter Shinobu's hair while preparing himself to kill her; and the ending with its lingering allusive feelings. This masterpiece is being performed in Tokyo for the first time since 1987. You do not want to miss this wonderful opportunity to appreciate the stylings of this great masterpiece with a storyline full of tear-evoking passion and numerous elegant utamonogatari (short tales centering around poems representing the Heian period).

Katsuragawa Renri no Shigarami
Adapted from a long-ago incident in which the bodies of a middle-aged man and a girl were found, this story revolves around the love between a man at the age of discretion and a young girl.
Ohan, the only daughter of Shinanoya, a merchant in Toraishi-chō, Kyoto, encounters Chōemon, the adopted son of Obiya who lived next to Shinanoya, on her way back from a pilgrimage to the Ise Shrine. They arrive at an inn in Ishibe, Ōmi Province (the present Shiga Prefecture). During the night, Ohan runs into Chōemon's room asking for help, saying that she is annoyed by the decchi apprentice Chōkichi's persistent seduction. The incident then stirs up a great commotion between the two families.
The sadness of Ohan and Chōemon, who can't fight against their destiny that eventually ends up in a double suicide; the love between husband and wife; the parent-child attachment; even the dirty tricks by those trying to humble Chōemon, as well as their behaviors tinged with humor – you are sure to enjoy this sewamono masterpiece that highlights a variety of keen insights into human nature.