National Theatre has implemented measures for our visitors to prevent the spread of the novel coronavirus. For more information click here.
National Theatre Tokyo 55th Anniversary
150th Anniversary of the Naming of Bunrakuza
Bunraku Performances in February



Performance Dates : Feb. 5 (Sat.) - Feb. 22 (Tue.), 2022
No performance on 9 (Wed.)
Venue : National Theatre (Small Theatre)

Program Ⅰ (10:45–14:10)
Ninin Kamuro
Goshozakura Horikawa Youchi
Hade Sugata Onna Maiginu


Program II (14:40-17:30)
Kagamiyama Kokyō no Nishiki-e


Program III (18:00-20:00)
Heike Nyōgo no Shima
Tsuri Onna



Ticket Prices for Each Program(tax included)
Adults:
1st Grade ¥7,000; 2nd Grade ¥6,000
Students:
1st Grade ¥4,900; 
2nd Grade ¥4,200
Seating plan

*End times are estimates and could vary.
*Japanese audio guides are available for rent. Click here for details.
*Subtitles: Available only in Japanese. Displayed on screen beside the stage.
*English synopsis is available. It is included in the paid Japanese brochure.
*There will be intermission.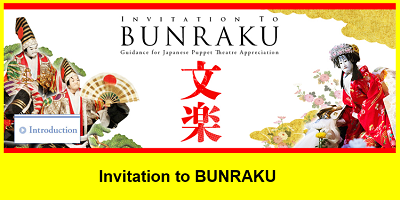 Booking Opens
Jan. 14 (Fri.), 2022

-----------------------------------------------------------------------------
Box Office
0570-07-9900 (From overseas: +81-3-3230-3000) in Japanese and English
(10:00 - 18:00)
Online Booking : https://ticket.ntj.jac.go.jp/top_e.htm
-----------------------------------------------------------------------------
Counter Sales at the Theatre
available from Jan. 15 (Sat.), 2022

in Japanese


Ninin Kamuro
Two kamuros (young courtesan apprentices) who are close friends enjoy the game of hanetsuki (battledore and shuttlecock) and maritsuki (ball-bouncing game) on a beautiful spring day. Against a backdrop of beautiful scenery representing the pleasure quarters, this piece highlights the innocent appearances of the young kamuros.

Goshozakura Horikawa Youchi
Musashibō Benkei, a messenger of Yoshitsune, appears at jijū (chamberlain) Tarō's mansion, where pregnant Kyō no Kimi, Minamoto no Yoshitsune's wife, is taking a rest. To clear himself of the suspicion of treason, Yoshitsune has to offer the head of Kyō no Kimi, a daughter of the Heike family, to his elder brother Yoritomo. Benkei then reaches a significant decision. The predicament and the surprising past of the hero Benkei are depicted on a large scale, which is only to be seen in jidaimono Jōruri.

Hade Sugata Onna Maiginu
Akaneya Hanshichi, a son of the owner of the Akaneya sake shop in Ueshiomachi, Osaka, becomes intimate with a courtesan Sankatsu. To go live with her, Hanshichi deserts his wife Osono and leaves his parents' home. Later, he is accused of killing a man in a brawl. At dusk, Osono grieves over her husband at Akaneya, where an illegitimate child born to Hanshichi and Sankatsu has been left. Including Osono's poignant reminiscence – known for the famous line, "Hanshichi, where are you, what are you doing now?," this masterpiece expresses the feelings of those worrying about Hanshichi's welfare and always sinks deep into the hearts of those who hear it.

Kagamiyama Kokyō no Nishiki-e
Chūrō (a deputy lady-in-waiting) Onoe happens to find the secret message of Iwafuji, a tsubone (court lady) who aims to usurp the headship. Consequently, Onoe suffers humiliating insults from Iwafuji in front of others. In spite of servant Ohatsu's concerns, she ends up killing herself. Crushed with grief, Ohatsu rises up to retaliate against Iwafuji. Set in the gorgeous palace of the families of the shogunal deputy, this revenge drama centered around the women portrays the swirling machinations and tragedy of those involved, as well as the affection and loyalty between master and servant. You are sure to enjoy this moving performance!

Heike Nyogo no Shima
This masterpiece of Chikamatsu Monzaemon portrays the drama of criminals exiled to an island, and is based on the tragedy of Shunkan Sōzu from the "Tale of the Heike." In the story, Shunkan Sōzu and two others are banished to Kikaigashima, a solitary island on charges of plotting rebellion against Taira no Kiyomori, who has been wielding authority. One day, an amnesty ship arrives at the island and a messenger reads out the notice; however, Shunkan's name is not on it. Desperate, Shunkan abandons himself to grief. On top of this, on the island another unthought-of event is going to take place. What will it be?

Tsuri Onna
A daimyō (feudal lord) who desires to have a beautiful wife goes on a pilgrimage to the Ebisu Shrine in Nishinomiya, accompanied by his servant Tarōkaja. They find a fishing rod inside the shrine grounds. Thinking it must be a gift from Ebisu (the god of shipping, fishing, and commerce), the daimyō immediately drops a line. What does he catch? You are sure to enjoy this humorous tale based on the Kyōgen piece "Tsuribari (Fishhook)."

150th Anniversary of the Naming of Bunrakuza
Ningyō Jōruri Bunrakuza is the only theatrical troupe that has maintained its specific performance style ever since Takemoto Gidayū launched the Takemotoza in Dotonbori in 1684. The name Bunrakuza has the prefix Bunraku ― the pseudonym of the amateur Jōruri reciter Masai Yohē, the founder of the Uemura family who led this troupe for generations. Bunrakuza was officially named as a theater and theatrical troupe in January 1872, when Matsushima Bunrakuza (currently in the Nishi Ward, Osaka) opened. This performance will be held as a memorial event in the year 2022, which marks the 150th anniversary of the naming of Bunrakuza.