\ "Discover KABUKI" special webpage is now open! /




National Theatre (Large Theatre)


Discover KABUKI


PartⅠ Guidance "How to Appreciate KABUKI"
PartⅡ Experience the live performance of Kabuki "Nihon Furisode Hajime"

 In this Kabuki Appreciation Class, popular Kabuki performances are introduced by a fine Kabuki cast for as many people as possible to casually experience the fascinating world of Kabuki with its history of 400 years. The Guidance "How to Appreciate KABUKI" that precedes the performance also enjoys tremendous popularity, where Kabuki actors give clear and detailed explanations of the highlights of the performance. In addition to a free Kabuki handbook and program, subtitles are also provided this time, making it an excellent opportunity for beginners to enjoy and understand Kabuki.



Performance Date


June 23(Fri.), 2023



Curtain Time


2:30PM
7:00PM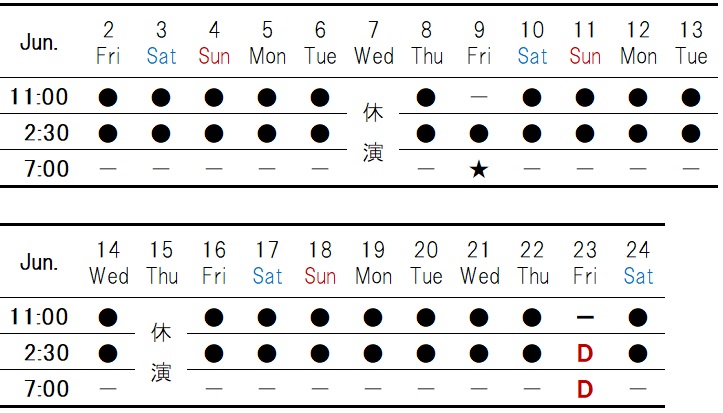 ● : Kabuki Performance for Beginners
★ : Kabuki for Beginners (Evening)


D

: Discover KABUKI



Running Time


Approximately 1 hours 40 minutes including intermission
Time table



Cast


▼Guidance
Nakamura Toranosuke
Kisa Ayako
▼Kabuki Performance
Nakamura Senjaku
Nakamura Tsurumatsu
Nakamura Toranosuke
and others



Tickets(Tax included)


Students:
All seats = 1,800 yen
Adults:
1st Grade = 4,500 yen
2nd Grade = 3,000 yen
Seating plan

*Audio guide: Available for free in English and Japanese. Click here for details of audio guide.
*Subtitles: Available in English and Japanese. Displayed on screen above and beside the stage.
*Multilingual booklet: Available for free in English, Traditional and Simplified Chinese, Korean, Spanish, French and Japanese.

*For security, Metropolitan Police Department staff may inspect your baggage and use metal detectors.
Also, to enjoy the performance and for smooth evacuation in an emergency, please use the coin-operated lockers for large items.
We appreciate your understanding and cooperation.

Booking Opens
May 13, 2023

-----------------------------------------------------------------------------
Box Office
0570-07-9900 (From overseas: +81-3-3230-3000) in Japanese and English (10:00AM - 6:00PM)
http://ticket.ntj.jac.go.jp/top_e.htm
-----------------------------------------------------------------------------



Counter Sales at the Theatre


available from May 14, 2023

in Japanese



---------------------------------------------------------





What's the truth about a mysterious and yet beautiful princess…?
Enjoy this gorgeous and spectacular Kabuki masterpiece,
Depicting the famous myth of the defeat of a gigantic serpent!


  In this Kabuki Performance for Beginners, popular Kabuki pieces will be performed by the fine Kabuki actors for much wider audience to casually experience the fascinating world of Kabuki, which has a history of 400 years. The commentary program "Kabuki no Mikata (How to Appreciate Kabuki)," where a Kabuki actor gives an easy-to-understand explanation about the highlights of the performance, also enjoys its tremendous popularity. In addition to a free Kabuki handbook and program, subtitles of lyrics are provided, making it an excellent opportunity even for beginners to enjoy and understand Kabuki.


  Introduced the year after the opening of the National Theatre, the Kabuki Performance for Beginners program has evolved with the times for more than half a century, along with the Theatre. Our June 2023 performance features Nihon Furisode Hajime – Yamata no Orochi and Susanoo no Mikoto, which was revived at the National Theatre in 1971 and has been performed regularly ever since, and is now one of the most popular Kabuki programs.
  This piece was specially written by Chikamatsu Monzaemon, a playwright often called the "Shakespeare of Japan." It is based on legends written in the Kojiki (Records of Ancient Matters) and Nihon Shoki (Chronicles of Japan), and it premiered in what is now Osaka in February 1718 as Ningyō Jōruri, a type of puppet play that flourished in the Edo period. It was later adapted as a Kabuki piece.


  The drama is set in the upper reaches of the Hinokawa River that runs through the province of Izumo (now Shimane Prefecture). Deep in the mountains where it is dark even in the daytime settled in Yamata no Orochi, a gigantic eight-headed serpent. For fear of the horrible curse of the monster serpent befalling them, villagers offered a beautiful woman as a sacrifice every year. Now, Princess Inada is sunken in grief at the upper reaches of the river, waiting to be offered as the latest scapegoat. Then comes Princess Iwanaga, who hates beautiful women. In fact, she is an incarnation of Yamata no Orochi. Attempting to attack Princess Inada, Princess Iwanaga suddenly notices the smell of sake (liquor). She empties eight sake jugs one after another, and eventually swallows Princess Inada. Then, Princess Inada's sweetheart Susanoo no Mikoto rushes to save the princess and get back the totsuka no hōken (a sacred sword) that was once stolen by Yamata no Orochi. What Princess Iwanaga actually consumed was poisoned sake that had been prepared by Susanoo no Mikoto. Drunk on sake, Princess Iwanaga shows her true nature as that of the monster serpent and fights a fierce battle against Susanoo no Mikoto.
  The mysterious and beautiful Princess Iwanaga, who reveals her true colors little by little as she becomes drunk on the poisoned sake; the dynamic fighting scene depicting the battle between the monster serpent and Susanoo no Mikoto – this year's program is full of the gorgeous, magnificent appeals of Kabuki. Also, and the impressive musical performance livens up the drama all the more.
  Nakamura Senjaku and Nakamura Toranosuke play the roles of Princess Iwanaga, actually Yamata no Orochi, and Susanoo no Mikoto, respectively, for the first time. The costarring of father and son – this is a long-awaited performance by all Kabuki fans! Prior to the main program, an easy-to-understand commentary will be given by Toranosuke through Kabuki no Mikata (How to Appreciate Kabuki).
  No doubt that you will be mesmerized by the world of Kabuki by watching this Nihon Furisode Hajime, a program full of highlights, with the help of the commentary. You can also fully enjoy it without any background knowledge. We are very pleased that you have joined us!