National Theatre has implemented measures for our visitors to prevent the spread of the novel coronavirus. For more information click here.

The Opening of the Agency for Cultural Affairs, the 77th National Arts Festival
Organized by ACA National Arts Festival
International Music Day Commemoration
Kabuki Performances in October

Performance Dates : October 1 (Sat.) - 26 (Wed.), 2022
No Performance on 6 (Thu.) and 17 (Mon.)
*Closed for Private Event: 13(Thu.)
Venue : National Theatre (Large Theatre)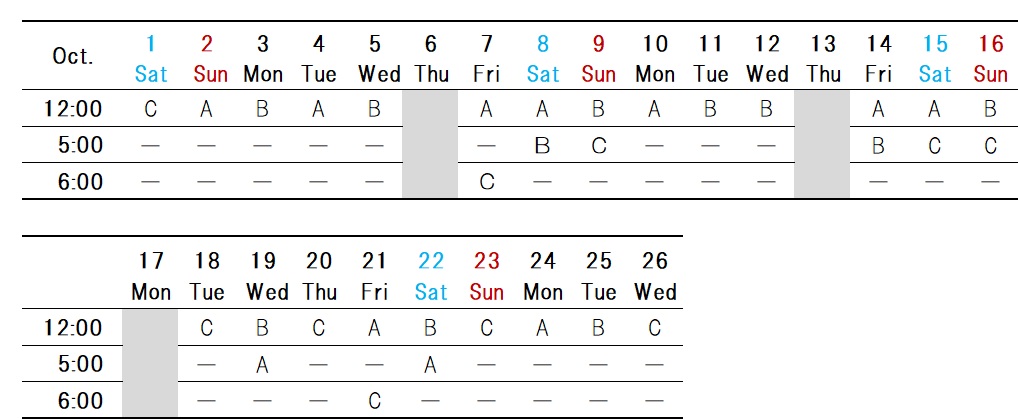 Running Time(including intermission)
【Program A】Approx. 3 hours and 20 minutes 
【Program B】Approx. 3 hours and 25 minutes 
【Program C】Approx. 2 hours and 40 minutes 


Written by Takeda Izumo, Miyoshi Shōraku and Namiki Senryū 
"Yoshitsune Senbonzakura"

【Program A】 ACTⅡ
【Program B】 ACTⅢ
【Program C】 ACTⅣ

Cast
Onoe Kikunosuke
Bandō Hikosaburō
Nakamura Baishi
Nakamura Mantarō
Ichimura Takematsu
Nakamura Yonekichi
Ichimura Hikaru
Onoe Ushinosuke
Ichimura Kitsutarō
Kamimura Kichiya
Kawarasaki Gonjūrō
Nakamura Kinnosuke
Nakamura Matagorō
Nakamura Tokizō
Bandō Rakuzen
―――――――――
Onoe Kikugorō
and others

Ticket Prices (including tax)
[1st Grade] Adults: 12,000 yen (Students: 8,400 yen)
[2nd Grade] Adults:&nbsp8,000 yen (Students: 5,600 yen)
[3rd Grade] Adults: 3,500 yen (Students: 2,500 yen)
Event Package Prices (Includes Programs A+B+C)
[1st Grade] 33,000 yen
[2nd Grade] 22,500 yen

Seating Plan

*Audio guide: Available for rent in Japanese. Click here for details of audio guide.
*Subtitles: Not available.
*English synopsis is available. It is included in the paid Japanese brochure.


Booking Opens
September 13 (Tue.), 2022

-----------------------------------------------------------------------------
Box Office
0570-07-9900 (From overseas: +81-3-3230-3000) in Japanese and English (10:00-18:00)
http://ticket.ntj.jac.go.jp/top_e.htm
-----------------------------------------------------------------------------

Counter Sales at the Theatre
available from September 14 (Wed.), 2022


in Japanese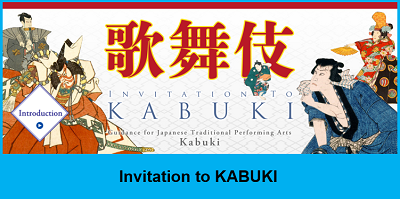 ---------------------------------------------------------


National Theatre Farewell Performances are Now Open!
Presentation of an Entire Play Offering the Real Pleasure of the Masterpiece!

  The National Theatre's Kabuki performances in October to mark the start of the National Theatre Farewell Performances Upon the Reconstruction Project – Towards a New Adventure – presents Yoshitsune Senbon Zakura, one of the three greatest works of Gidayū Kyōgen, in its entirety by dividing it into three programs.
  This play was premiered as a Jōruri puppet show at Osaka Takemoto-za in 1747. Centered around the ever-changing, transmigratory journey of Minamoto no Yoshitsune, who, despite his exploits in the subjugation of the Heike clan, was forced to flee from Kyoto due to the enmity of his elder brother Yoritomo, the drama unfolds involving various characters. This is through the fiction that the warlord of the fallen Heike clan is actually still alive, or the fantastic story setting that a fox disguised as a human being approaches Yoshitsune and Shizuka Gozen.
  In this performance, Acts II, III and IV of the original work are presented as Program A, Program B and Program C, respectively. Each program can be enjoyed independently; however, by watching them together in sequence, you can appreciate the charms of Yoshitsune Senbon Zakura even more.


[Summary]
Program A: Torii Mae
  Yoshitsune, who is to leave Kyoto, doesn't allow Shizuka Gozen to go along with him; instead, on parting he hands the treasured hand drum named Hatsune no Tsuzumi over to her as a memento. Just then, Satō Tadanobu, Yoshitsune's retainer who is supposed to be in his own hometown, suddenly appears, saying he will escort Shizuka Gozen.
Tokaiya and Daimotsu no Ura
  After the Battle of Dannoura, Taira no Tomomori has been disguising himself as the owner of shipping agent Tokaiya Ginpei, thus protecting the young emperor Antoku with the help of Suke no Tsubone. Tomomori, who is waiting for the opportunity for revenge, lures Yoshitsune out at sea, but he ends up dying a heroic death after being tragically defeated again by Yoshitsune.

Program B: Shii no Ki, Kokingo Uchijini and Sushiya
  Taira no Koremori's wife Wakaba no Naishi, eldest son Rokudaigimi and retainer Shumeno Kokingo unfortunately get robbed of their money by Igami no Gonta on their way to visit Koremori. On top of that, Kokingo, who stands up against the pursuers, dies in battle. Gonta hands over Wakaba no Naishi and Rokudaigimi, as well as the head of Koremori, to the Genji side. Gonta's father Yazaemon slashes Gonta in a fit of rage; however, a surprising truth is revealed by the dying Gonta.

Program C: Michiyuki Hatsune no Tabi and Kawatsura Hōgen Yakata
  The true identity of Tadanobu, who escorted Shizuka Gozen and later appeared before Yoshitsune hiding in Mt. Yoshino, was a fox (Genkurō Gitsune). Moved by the filial piety of the fox, who is attached to Hatsune no Tsuzumi, made of the skin of its parents, Yoshitsune gives the hand drum to the little fox.


  We are pleased to present such a star-studded cast for these farewell performances, including Onoe Kikugorō and Onoe Kikunosuke, who is impressive in playing three varied, major roles for this long-awaited occasion – Tomomori, a dignified warlord of the Heike clan; Gonta, a city hoodlum and Genkurō Gitsune, the affectionate fox. Please enjoy to the full the real pleasures of these masterpieces during this commemorative performance that marks the start of the National Theatre's new adventure!