National Theatre has implemented measures for our visitors to prevent the spread of the novel coronavirus. For more information click here.

National Theatre Tokyo 55th Anniversary
Kabuki Performances in January
Performance Dates : January 3 (Mon.) - 27 (Thu.), 2022
No Performance on 12 (Wed.) and 20 (Thu.)
Venue : National Theatre (Large Theatre)

Curtain Time
12:00 (except 14 (Fri.))
16:00 (14 (Fri.))
Running Time
Approximately 3 hours 30 minutes including interval


Written by Kyokutei Bakin
"Nansō Satomi Hakkenden"

Cast
Onoe Kikugorō
Nakamura Tokizō
Onoe Shōroku
Onoe Kikunosuke
Bandō Hikosaburō
Bandō Kamezō
Nakamura Baishi
Nakamura Mantarō
Ichimura Takematsu
Ichimura Hikaru
Onoe Sakon
Ichimura Kitsutarō
Kataoka Kamezō
Kawarasaki Gonjūrō
Ichimura Manjirō
Ichikawa Danzō
Bandō Rakuzen
Ichikawa Sadanji
and others

Ticket Prices (including tax)
[1st Grade] Adluts: 12,000 yen (Students: 8,400 yen)
[2nd Grade] Adluts: 8,000 yen (Students: 5,600 yen)
[3rd Grade] Adluts: 3,500 yen (Students: 2,500 yen)
Seating plan

*Audio guide: Available for rent in Japanese. Click here for details of audio guide.
*Subtitles: No subtitles available.
*English synopsis is available. It is included in the paid Japanese brochure.


Booking Opens
December 13 (Mon.), 2021

-----------------------------------------------------------------------------
Box Office
0570-07-9900 (From overseas: +81-3-3230-3000) in Japanese and English (10:00-18:00)
http://ticket.ntj.jac.go.jp/top_e.htm
-----------------------------------------------------------------------------

Counter Sales at the Theatre
available from December 14 (Tue.), 2021


in Japanese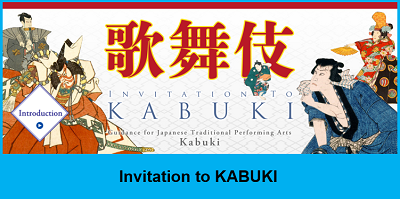 ---------------------------------------------------------
Eight braves (the Eight Dog Warriors) united by a mysterious fate rise up for the revival of the Satomi family!
This play was adapted from a feature-length yomihon (storybook novel) written by Kyokutei Bakin (1767-1848), a famous author of popular entertainment stories in the late Edo period. The publication of the original work began in November 1814, which lasted over the course of 28 years until it concluded with the 106th volume (in 9 series).
   The story is mainly set in the Kantō region during the late Muromachi period (the latter half of the 15th century). It highlights the heroic activities of Hakkenshi (the Eight Dog Warriors) who were united by a strange fate related to Satomi Yoshizane's daughter, Fusehime. Hakkenshi, in trying to save Yoshizane, regarded as the founding the Bōsō daimyō (feudal lord) Satomi family. The tale is set against the backdrop of the conflict between the Kamakura kubō (shogunate) Ashikaga family and the Kantō kanrei (shogunal deputy) Ōgigayatsu Uesugi family, among other conflicts. Bakin employs a variety of actual and fictional characters, mixing the good and the bad, men and women of all ages, which thus unfolds in a grand-scale, elaborately woven story.
   This well-beloved masterpiece has been made into a theatrical play by many scriptwriters since it was first dramatized in 1834. This time, the script that has been repeatedly used for performances at the National Theatre based on the dramatization by Atsumi Seitarō ― the first dramatization in postwar history ― has been revised anew and elaborated upon further.
   The scene "Hikiroku-uchi" portrays Inuzuka Shino, who is about to start out with the excellent sword Murasamemaru for the revival of the declining Satomi family and a love scene between Shino and his beloved Hamaji, as well as the words and deeds of the handsome, beguiling villain Aboshi Samojirō, a rōnin (masterless samurai) who loves Hamaji, along with comical performances delivered by the people around them.
   Next comes "Maruzuka-yama," which highlights the grisly killing of Hamaji by Samojirō, the unexpected appearance of Inuyama Dōsetsu and the Dog Warriors performing a danmari (wordless pantomime). The image of Inuyama Dōsetsu created in Kabuki is full of masculine attractiveness, complete with an overwhelming dignity. At the magnificent tower Hōryūkaku of Nariuji-yakata, where Ashikaga Nariuji resides, Shino, who was granted an audience by Nariuji for the revival of the Satomi family, is stigmatized as an enemy spy. A spectacular battle between Shino and Inukai Genpachi, who was ordered to capture Shino, breaks out over the housetop. "Konaya Urate" lightheartedly depicts Shino, who encounters Genpachi and Inuta Kobungo, as he takes a pledge of brotherhood against a backdrop of tasteful riverside scenery during the evening.
   Then comes the scene "Makuwari-yakata," which is set in a gorgeous mansion overlooking the Sumida River. Inusaka Keno, disguised as a beautiful female entertainer, performs a fascinating dance and acquits himself to his credit as a warrior in front of the enemy leader Ōgigayatsu Sadamasa and his compatriots to avenge his father's death. Finally, the eight Dog Warriors unite to square off against Sadamasa, an arch-enemy of the Satomi family, who has done all kinds of cruel things.
Onoe Kikugorō, who received the Order of Culture in 2021, plays the role of Dōsetsu in a consummate performance while also supervising the entire production. This impressive drama is superbly cast ― including Ichikawa Sadanji as Sadamasa, Nakamura Tokizō as Keno, Onoe Shōroku as Samojirō and Genpachi, and Onoe Kikunosuke as Shino.
At this outset of the New Year, the National Theatre invites you to please enjoy this stunning performance that highlights the charms and appeal of Kabuki.