PROGRAM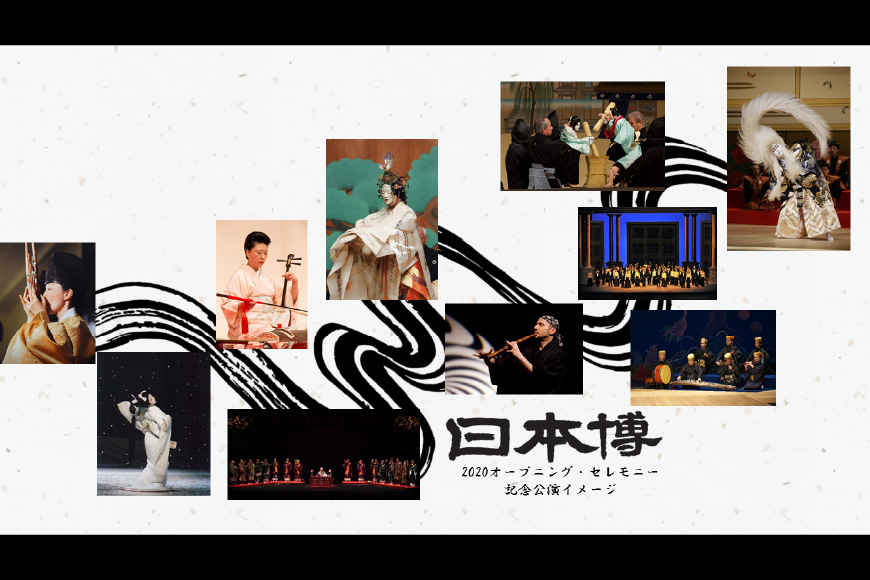 Japan Cultural Expo 2020 Opening Ceremony
We are pleased to announce the opening ceremony of Japan Cultural Expo to go into full swing in 2020 leading up to the Tokyo Summer Olympic and Paralympic Games. Performers of Japan's leading performing arts will get together on the special stage in the Tokyo National Museum Honkan courtyard with the projection mapping and the tulip tree installation.
The performances will be screened live at the Media Ambition Tokyo 2020 in Ueno Park's Takenodai Square (Fountain Square), or on the grounds of the Tokyo National Museum.
Note: Public viewing in the Tokyo National Museum Honkan courtyard will be standing room only; seats will be provided only for specially invited guests. If conditions become crowded, entry may be restricted.
Title

Japan Cultural Expo 2020 Opening Ceremony

Place

Tokyo National Museum (Honkan Courtyard)
[live screening room]
Tokyo National Museum (Honkan Courtyard / Heiseikan Auditorium)
Ueno Park (Takenodai Square)

Note: In the case of rain the event will be held inside the Tokyo National Museum Heiseikan. For visitors, please look for the live screening in the Honkan courtyard or the Takenodai Square in the Ueno Park.

Note 2: This event is held out-of-doors, so please dress warmly.

Time

March 14, 2020 6:00 p.m.- (approx. 1 hour 20 min.)

Price

No Extra Charge

Note: You need to buy tickets for entrance to Tokyo National Museum.

Program

Part One: Ceremony MC: Tanihara Shosuke Aoyama Yuko

Ainu Ancient Ceremonial Dance The Foundation for Ainu Culture
Greeting
Touken Ranbu: The Musical
Touken Danshi [Higekiri / Hizamaru]

Part Two: Special Performance "Celebrating the Natural Beauties of Japan
-Music, Song and Dance-"

Shō Miyata Mayumi
Traditional Japanese Dance Onoe Yukari
Kokyū Kawase Roshū
Shōmyō (Japanese Buddist Chant) Tendai Shōmyō Shichiseikai
Noh Kanze Kiyokazu
Shakuhachi John Kaizan Neptune
Bunraku Toyotake Rodayu Tsuruzawa Seisuke Kiritake Kanjuro
Sanshin music Arakaki Toshimichi
Chorus Misawa Hirofumi New National Theatre Chorus
Kabuki Onoe Kikunosuke

Finale

How To Apply

The ceremony will be open to public view, but reserved viewing areas will be set up in the Museum Honkan courtyard (standing room only) and Heiseikan Auditorium (live screening room). These areas are available only for people with a "Reserved viewing area ticket."(We have stopped accepting applications.)

-In case of too many applications, we will hold a draw for place allocation.

-A ticket will be sent by post in the end of February. One ticket for only one person.

-Resale of tickets is prohibited under no circumstances. We will check your ID on the day of the ceremony.

-In the case of rain the event will be held inside the Tokyo National Museum Heiseikan and "Reserved viewing area ticket" will be invalid. For visitors, please look for the live screening in the Honkan courtyard or the Takenodai Square in the Ueno Park.

-Your application may not be changed.

For inquiries

03-5777-8600(Hello Dial /8:00 a.m. - 10:00 p.m.)
*Available in English, Chinese, Korean, Portuguese and Spanish.

URL

Tokyo National Museum
https://www.tnm.jp/?lang=en