[Kabuki in March] Special Offer for International Audiences (Welcome! Kabuki Ticket)
For international audiences, we offer special discounted tickets for Kabuki Performances in March.
Take advantage of this perfect opportunity to enjoy an experience of Kabuki!
*Accompanying Japanese audiences can also get this offer. Feel free to bring your Japanese friends!
Details
Performance: Kabuki Performances in March 2023
Term: March 11-27*, 2023 (*except on March 20.)
Entry Time: You can enter the auditorium during an intermission before the second act (see the following times).
・Matinee Show (starting at 12:00) → around 13:25
・Evening Show (starting at 17:00) → around 18:25
Ticket Price
Welcome! Kabuki Ticket: 4,000 yen
(1st-grade seat/The original price is 8,000 yen)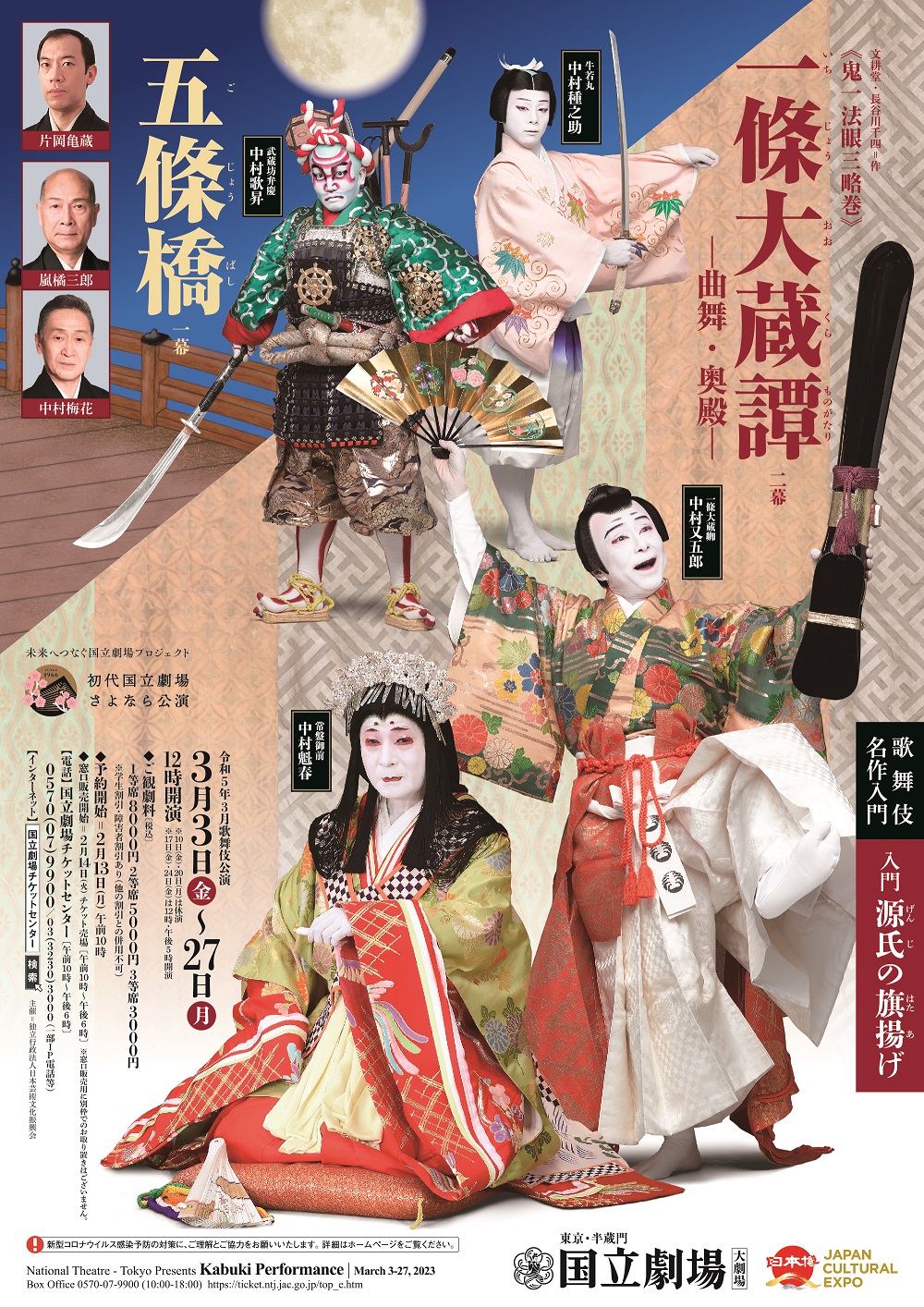 How to Buy a Ticket
Group Booking (10 or more) or Invoice Payment
Please contact the National Theatre Business Division.
Fax: +81-3-3265-9667
Email: eigyo-nt@ntj.jac.go.jp
Individuals
(1) Box office at the National Theatre (same-day ticket only/10:00-18:00)
You can purchase a same-day ticket at the on-site box office.
Please tell the staff that you are buying a "Welcome! Kabuki Ticket."
Tickets will go on sale at around 13:00 for matinee shows and 18:00 for evening shows.
(2) Confetti
[Online]
・English: http://confetti-web.com/2023-3kabuki-english/ (external site)
・Japanese: http://confetti-web.com/2023-3kabuki/ (external site)
*Membership registration is required for booking. There is no membership fee.
[By phone (Japanese only)]
0120-240-540 (only within Japan / toll-free /weekdays 10:00-18:00)
Please inform the operator that you are purchasing a "Welcome! Kabuki Ticket."
*A ticketing fee will be charged.
(3) TKTS (same-day or next-day tickets only/no reservation in advance)
The stores can be found at Shibuya, Shinjuku, Ginza, Asakusa, Marunouchi, Kyobashi.
https://tkts.tokyo/en/location-list (external site/location list)
*A ticketing fee will be charged.
Audio Guide
The English-language audio guide provides a live commentary on key aspects of the show.
It is a must-buy to enjoy the performance to the fullest, especially if you watch kabuki for the first time!

For more details, please click here.
Contact
National Theatre Business Division
Fax: +81-3-3265-9667
Email: eigyo-nt@ntj.jac.go.jp