National Theatre Spring Open House
National Theatre Spring Open House
In Commemoration of the Reconstruction Project -Towards a New Adventure-
The National Theatre will be closed for a redevelopment project in the fall of 2023.
The National Theatre Open House lets you discover remarkable features of the National Theatre before the redevelopment work commences.
In the cherry blossom season, we will offer you an exclusive opportunity to explore the theater.
Come visit us at this unique opportunity!
*International visitors will get a special discount on Kabuki performances in March.
For more information, please visit here.
Admission/ Self-Guided Audio Tour
Explore the lobby and auditorium of the Large Theatre with an audio guide app (Japanese/English)!
You can listen to stories/explanations on the architectural style, works of art, stage mechanism, and so on.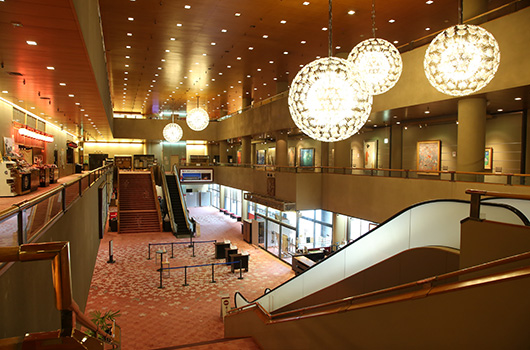 WHEN

March 28 and 31...12:00-15:30 (last entry 15:00)
April 3...10:30-19:00 (last entry 18:30)
April 18, 19, and 20...11:00-17:00 (last entry 16:30)

TICKET PRICE

500 yen (tax included)
*no charge for elementary school children or younger

Booking Information
[Notes]
● Valid for your selected day only.
● You can re-enter as many times as you like on the day of admission.
● The ticket includes a leaflet (Japanese/English).
[Audio Guide App]
● Please scan a QR code on the leaflet and download the app on your device. (Required OS: iOS 11.0 and up, android 5.0 and up)
● Please note that the app is not compatible with some devices.
● Please bring your own earphones or headphones so as not to disturb other visitors.
● The data communication fee for using the app will be borne by the customer.
● Narrator (Japanese): ICHIRYUSAI Teiyu (Kodan storyteller/voice actor), music: SHINNAI Tagatayu
Stage Tour (Japanese only)
Take a look behind the scenes! You can experience the stage mechanism of the Large Theatre where Kabuki is usually performed, such as the hanamichi (runway), mawari butai (revolving stage), and the greenroom area.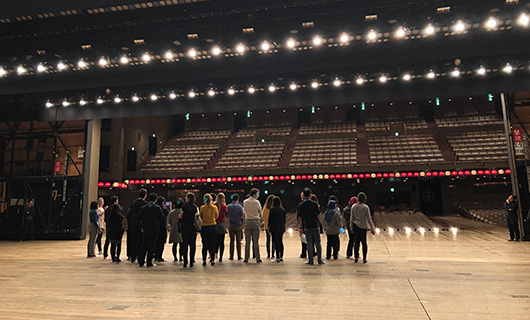 WHEN

April 3
①11:00/②13:30/③15:00/④16:30/⑤18:00
*The duration is about 45 minutes.
*up to 50 people for each time

TICKET PRICE

(tax included)

1,000 yen (+ admission ticket)

Booking Information
Attention!

●To attend the stage tour, you need to also purchase the admission ticket.
●The stage tour will be held in Japanse. For more details of the tour, please visit a Japanese page.
◆◆◆
Booking Information
BOOKING OPENS
March 18 (Sat) at 10:00 (online or by phone)
Book Online
▶ Booking by Phone
National Theatre Ticket Center (10:00-18:00)
03-3230-3000 (for IP phone, etc.)
▶ On-Site
*You can also purchase the ticket at the Box Office from March 19 (Sun).
However, please note that if all tickets are sold out on March 18 online and by phone, no tickets will be on sale at the Box Office.
*Box Office opening hours: 10:00-18:00
*No discounts applied
◆◆◆
Opening Hours
▶ Restaurant and Cafe
March 28 and 31...12:00-15:30 (last call 15:00)
April 3...10:30-15:30 (last call 15:00)
▶ Gift Shop
Mach 28 and 31...12:00-15:00
April 3...10:30-18:30
April 18, 19, and 20...11:00-16:30
◆◆◆
[Contact]
National Theater Business Division
Fax: +81-3-3265-9667
Email: eigyo-nt@ntj.jac.go.jp