"Discover NOH & KYOGEN" on October 14th, 2022
"Discover NOH & KYOGEN" on October 14th, 2022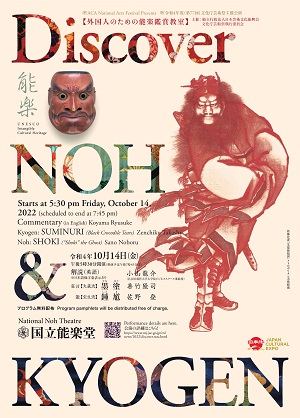 The National Noh Theatre hosts "Discover NOH & KYOGEN" on October 14th, 2022. This program started in 2016, designed for international beginners.
This performance "Discover NOH & KYOGEN" consists of two parts to guide you to the world of Noh and Kyogen. Firstly, the expert will present a pre-performance lecture on Noh and Kyogen, their history and unique stylization in English. Then enjoy Kyogen "SUMINURI" (Black Crocodile Tears) and Noh "SHOKI" ("Shoki" the Ghost). All seats have subtitle monitors in Japanese, English, Chinese, Korean, Spanish, and French. These subtitles help you to understand the program.
 国立能楽堂では、2022年10月14日(金)に「Discover NOH & KYOGEN」を開催します。英語の解説に続き、狂言「墨塗」と能「鍾馗」をお楽しみいただきます。日本語、英語、中国語、韓国語、スペイン語、フランス語の6ヵ国語の字幕付きで、海外からのお客様を含め、能楽を初めて観る方にピッタリの公演です。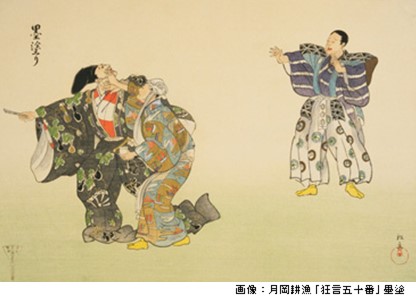 Kyogen "SUMINURI" (Black Crocodile Tears)
A lord is about to return to his homeland after a long stay in the capital and visits a mistress he met during his time there in order to say farewell. The woman weeps, and the lord is moved by her display of emotion. However, these tears are merely drops of water she put on her face. The lord is unaware of this, but his servant Tarokaja stealthily replaces the water with ink. The woman doesn't notice, and continues her pretend sobs...
狂言「墨塗」
 長らく滞在していた都を離れて国元に帰ることになった大名。都で馴染みになった女に別れ話に行くと、女がしきりに泣くのでついほだされます。ところが女の涙は、側に置いた水を顔につけた偽りの涙。そうと気づいた大名の家来・太郎冠者が、こっそり水を墨とすり替えます。女はすり替えに気づかないまま嘘泣きを続け……。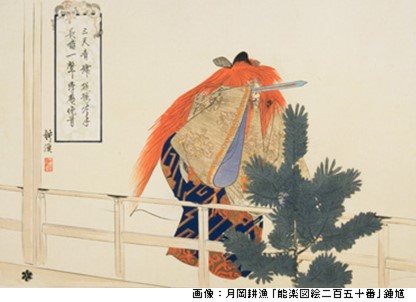 Noh "SHOKI" ("Shoki" the Ghost)
Shoki is a man who fails a government examination and dies in a fit of indignation. However, he passes the test posthumously and becomes a guardian spirit, quelling demons and swearing to defend the peace of the land. This story originates in Tang dynasty China, when it is said a spirit calling himself Shoki appeared to Emperor Xuanzong in a dream and cured him of disease. Shoki is depicted as a fierce deity carrying a sword in his right hand and even in Japan was revered as a force to drive away plagues. Today, the desire seen in Shoki's depiction feels more important than ever, and we present this play with the wish to dispel disease.
能「鍾馗」
 官吏試験に落第し憤死した鍾馗。しかし死後に及第を得、守護神となった鍾馗は、悪鬼を平らげ、国土安穏を約束します。
 中国・唐の時代に玄宗皇帝の夢に鍾馗と名乗る霊が現れ、病を祓ったという故事があります。鍾馗は右手に剣を持った鬼神の姿で描かれ、日本でも疫病退散の神として大切にされてきました。古来鍾馗にかけられた願いがより切実に感じられる今、疫病退散の祈りも込めてお届けします。
Discover NOH & KYOGEN
Commentary (in English)
Kyogen: SUMINURI (Black Crocodile Tears)
Zenchiku Takashi (Okura school) 
Noh: SHOKI ("Shoki" the Ghost)
Sano Noboru (Hosho school) 
The National Noh Theatre has implemented health and safety measures for our visitors to prevent the spread of the novel coronavirus. For more information click here.